No Excuses Detox – 100 Recipes to Help You Eat Healthy Everyday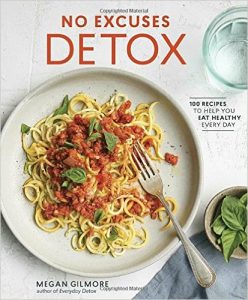 by Megan Gilmore. Ten Speed Press 2017 $19.95 (Amazon $10.70, Spiral $22.50)
This beautiful book landed on my doorstep and I had to read it right away. Yes, I actually do read cookbooks (cover to cover); it's a glitch in my system and my friends think it is hilarious.  This is not a totally Plant-Based cookbook, but it is gluten-free with lots of vegan options – and many that are easily convertible.  The goal here is "clean eating." The author blogs at detoxinista.com which will give you some further ideas about her food and if it will work for you.
The design is attractive and enticing with front and back cover "fold-overs" so you have two easy bookmarks.  The easy-to-use recipe layout has multiple circled annotations so you can choose vegan, dairy-free, gluten-free, egg-free, nut-free, soy-free, sugar-free and those with meat protein options are clearly noted as well. She also indicates: 30-min recipes, 15-min prep, kid-friendly, freezer friendly and slow/pressure cooker options (with specific instructions for the Instant Pot).  The photos, not one for every recipe but a lot, are beautiful but sometimes don't match the written descriptions exactly. And there are written descriptions – an interesting lead-in and often very useful notes at the bottom.
Ms. Gilmore is also a fan of food combining – that was big in the '70s and I can't really tell if this is rejuvenation of that same perspective. But she suggests eating only certain foods together – and makes that easy if you follow her recipes and three week-long sets of menus that make sure that the recipes in those menus also follow that food-combining perspective. That concept requires more study on my part…..
I picked a couple recipes to try out. But first – some of the basics that I noted: Ms. Gilmore uses oil (sometimes a lot and sometimes a little) and she uses salt – sometimes with abandon. In many cases, those are easily modified – although she cautions about changing the ratios in baking when using coconut oil or trying to sub EVOO for coconut oil lest you create a major disaster. She also warns that mixing coconut oil and baking powder together creates a perfectly safe green (albeit surprising) product – with St. Patrick's Day coming up I might just try that.
Skillet Breakfast Hash was my first try. Green cabbage, onions, and green peppers form the base. The recipe suggests topping it with eggs, sprinkling with goat cheddar (all ingredient cheeses in the book are from goat or sheep milk) and finishing in the oven. Since I actually had a couple of free-range, local organic eggs left by a guest, I put two on the hash. And instead of the two ounces of goat cheddar, I finally shredded 1 ounce of Daiya Mozzarella and sprinkled it on the top.  The result was tasty although the Daiya was so finally shredded that its presence was unnoticeable. The eggs didn't add that much so I think I might try this again with some tofu – or nothing.
The next recipes I'll try are Baked Parsnip Chips, Butternut Mac 'n Cheese (still looking for the one that really works), Deep Dish Chocolate Cookie and No Bake Brownie Bites.
This book contains some fresh ideas. New recipe concepts seem to be generated in the ether and then appear simultaneously in many books, blogs or sites. So when you read some new thoughts, that's a good thing.