Tag Archives:
soups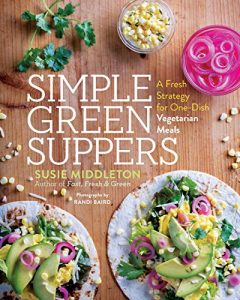 by Susie Middleton- Roost Books April 11, 2017 $24.95 (Amazon $14)
This is, as the title promises, a book of vegetable forward family dinners that strives for the unctuousness of meat-meals, the delciousness of deeply layered flavors, and the freshness of right from the garden produce. It is a beautiful tome, with lots of enticing full-page bleed photos from Randi Baird, that makes you want to dive in and start cooking
Ms. Middleton approaches the organization of her one-dish family suppers from an unusual perspective; each chapter focuses on a specific, but varied, base to which veggies are added: noodles, grains, beans, leaves, toasts, tortillas, eggs and broths. And each of those bases covers the whole landscape of, for instance, noodles – soba, udon, rice noodles, pasta, couscous, somen, egg. If you "go with" this horizon-broadening perspective, it can really step up the nightly dinner grind – and add some fun to the shopping and prep. Each chapter is preceded by a couple pages of useful "Tips and Strategies" – including prepping your larder. These aren't ten minute projects and the ingredient lists can be a little bit daunting, but most can be executed well within an hour – and the results are far from fast food. There are some new concepts and fresh, upgraded re-works of old favorites.
But be aware this not a totally plant-based book. There is a chapter, as noted, on eggs and some dishes in other chapters include cheese and dairy. But most of  these ingredients are, IMO, easily substituted with vegan replacements since they are not center stage – or simply skipped. The egg chapter may be doable with the new Follow Your Heart VeganEggs (if you don't have an issue with a primary ingredient – algal).
Note that the number of servings varies from two to three to four. So that means doubling or halving depending on your situation. As an empty-nester, I welcome recipes for two since I often find myself cooking the whole recipe for four –  and then there are often no leftovers!  The scale speaks.
I am looking forward to cooking my way through this lovely book and will post some of the results – especially when I've used dairy or egg replacements.