Tag Archives:
how-to
BY Robin Robertson – Houghton Mifflin Harcourt March 7, 2017. $25. Amazon $14.92/ Kindle $12.99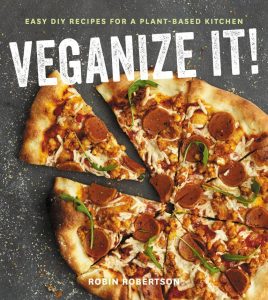 Another really good book from one of the top vegan cookbook authors. Robin Robertson's books are classics and I have most of them. So I had high expectations for this one. It's a beautifully designed book with a stiff fold-in cover for marking your place and lots of full-page photos and chapter intros that sometimes bleed across a double-page spread.
The chapters are similar to those of an omnivore cook book – with a twist. Plant-Based Meats, Vegan Charcuterie, Instead of Seafood, Dairy-Free and Egg-Free, Too…. all very enticing.
Since 2010, I've been turning to Steen & Newman's "The Complete Guide to Vegan Food Substitutions: Veganize It! Foolproof Methods for Transforming Any Dish into A Delicious New Vegan Favorite." And collecting recipes from chef-written cookbooks, blogs and the www. There have been so many advances in plant-based cooking in the past six years that I thought Roberstson might, essentially, be providing an updated, cutting edge version of "The Complete Guide…". And in some ways she has. But I was hoping for some break-through ideas instead of riffs on existing chef or blogger-developed veggie cuisine. Or at least a compilation of those best of the best ideas. But I misunderstood the intention – which might have had something to do with the similarity of the titles…..
Instead, the book provides "clean" vegan recipes for lots of basics like sour cream cream cheese, cheesy sauces, ricotta, hollandaise, feta, butter!, gravy plus many, many more. Beyond basics are burgers, pulled pork, fish 'n chips, sausages, meatballs, sea scallops, five bacon recipes, and more. Many of these products are available in the supermarket freezer or refrigerator case but made with a laundry list of additives and other unpronounceable ingredients. So this is why I add the word "clean." Ms. Robertson first chapter includes home-made versions of pantry items (many of which are not vegan in their store-bought versions). Each chapter also includes more involved recipes that use a few of the basics made from the included recipes or, if time is short, from store-bought versions.
I started my review by preparing a couple of the recipes. First was Creamy Ranch Dressing that starts with 1 cup of mayo – it had good flavor but the mayonnaise was too prominent so I cut it with a little almond milk that also made it more pourable. The second one was Cheddary Sauce which is pictured below (these are my photos, not from the book). This was a tasty cream sauce and it worked well over a steamed veggie and quinoa bowl, but it didn't taste anything like cheese, especially cheddar, which the name implied. I made it in a Vita Mix so just letting it blend a little longer heated it up –  once the cashews had been soaked, it was quick and easy despite a lengthy list of ingredients. I will make it again – perhaps amping up the seasonings and playing with the liquor choices. Next up are the five bacon recipes and the pulled pork.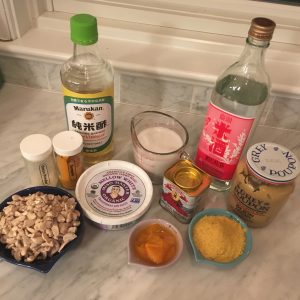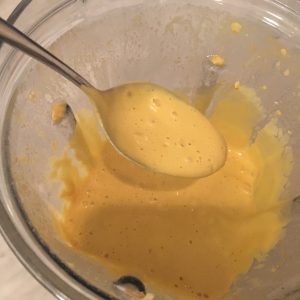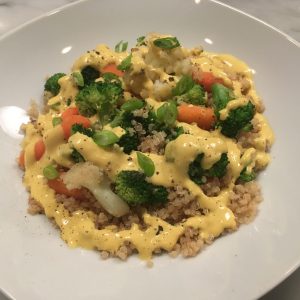 A couple nitpiks: Recipes labeled with cheesy names have to taste cheesy – nooch just doesn't taste cheesy to me. And there isn't any nutritional info – I'd like to know the calorie count and the percentage from fat – is it a 30-cal tablespoon or a 125 cal one? Also while the cashew craze has been well addressed, alternatives would be appreciated (since cashews are high-FODMAP)  and a little more on aquafaba would also be helpful and suggestions for those among us who choose oil-free.
Bottom line – this book is a keeper. There are enough interesting concepts in here to encourage experimentation. It is not haute cuisine, but it is reliable, tasty, clean vegan. And that's worth a lot.