Category Archives:
Reading on the Road and at Home
by Andrea Nguyen. Ten Speed Press 2014. $16.99 (Amazon $11.43, or $4.99 Kindle)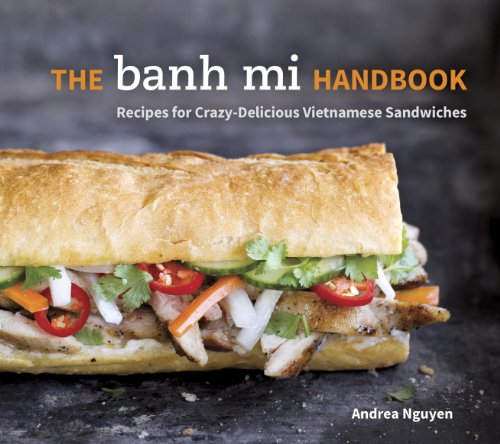 Banh Mi sandwiches have been the subject of so many articles and restaurant reviews that they have certainly captured my imagination and my salivary glands. But they are so meat-centric that I just couldn't figure out how to replicate this described deliciousness within the confines of even a flexible plant-based diet. Nguyen's small, hard-cover book helped me figure that out. This is by no means a vegetable-forward book; the bulk of the recipe chapters cover all of the main meat, poultry and seafood categories. But, there is a chapter on vegetarian fillings, two on breads and other "holders," and, probably most important, one on mayonnaise, sauces and pickles which form the flavor profile that makes Banh Mi sandwiches so addictive. So you might find it worth the investment in a Kindle version for the Baked Maggi Tofu, Edamame Pate or the four other vegan fillings or for the flavorings of her meat pates that could be reinterpreted in a mushroom or bean pate.