Essential Herbs and Spices – Discover Them, Understand them, Enjoy Them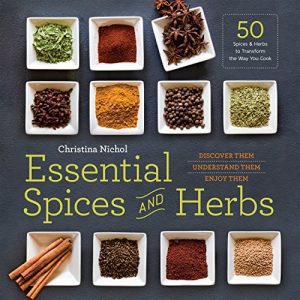 By Christina Nichol  – Rockridge Press 2015 $18.99 (Amazon $15.82 Kindle $4.99)
While not talking specifically to the plant-based cook, Ms. Nichol provides a useful overview of these critical components for all food preparations – not just for enhanced deliciousness but also for health promotion (almost all have "antioxidant, antiviral,  antiviral, or anti-fungal properties"), ceremonial rites, preservation and, historically, that biggie: covering up the taste of foods on the verge of rot. Herbs and spices figure prominently in the age of exploration – when, ounce for ounce, some were as valuable as gold. And the discovery of others changed the flavor profiles of major cuisines.
What are herbs and spices? They are all some kind of plant. If used for medicinal purpose then the entire plant is referred to as an herb. But for culinary uses, the leaf (fresh or dried) is the herb and the stronger, more pungent seed, root, berry, bark, and flower are the spices. Herbs are at their best fresh and tend toward "bitter astringent, tart or savory" while spices are better dried with "earthy, nutty, warm" and pungent profiles.
The author makes a good case for knowing more about the history and contemporary usefulness these small bottles of big flavor stacked in our pantries. She focuses on a selection of 50 popular herbs and spices as well as ten useful blends – helping the cook triage if s/he isn't ready to stock them all. Each is described along with its history,  kitchen methods, healing uses, what foods it complements and what other spices and herbs it pairs with followed by a couple of concrete recipes.
Exploring the magic that these condiments can exert over the most plebeian dishes, may make the temptation to take the plunge to stock them all irresistible. Ms. Nichol also lists the critical herbs and spices of major cuisines: Cajun, Caribbean, Chinese, French, Indian, Italian, Korean, Mexican, Middle-Eastern, North African, Thailand and Turkish. I found this particularly useful when cooking without recipes – just pick a favorite flavor profile then pull out the particular jars that deliver it. Then play.
I have a spice cabinet containing well over a hundred herbs and spices and a pullout with two dozen ethnic mixes – but I still learned a lot from this book:
Whole spices can last up to 4 years, most ground spices up to three years and dried herbs up to two – contrary to prevailing myth to toss all at the one year mark. But always smell and taste your spices first to be sure. Then toast them
Red pepper spices increase in intensity during cooking! Beware
Asafetida is a vegetarian gift with a taste blend evocative of garlic, shallot, onion and leek that imparts that meaty, umani flavor. Love it but never knew why! It's the dried sap of an herbaceous plant from the fennel family and also a wonderful gift for those with a sensitivity to the allium family.