Farmacology – What Innovative Family Farming Can Teach Us About Health and Healing
by Daphne Miller, MD. 2013 HarperCollins Publishers. List $23.95 HC $20.16, PB $14.22, Kin $10.99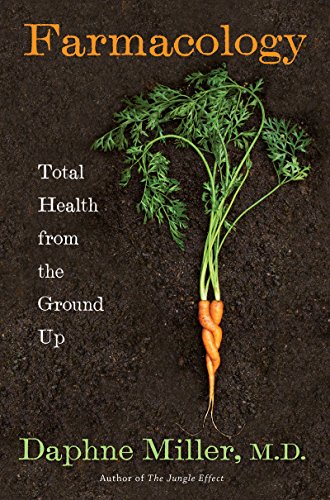 One of the more interesting overviews of the relationship between health and farming, Farmacology explores the revitalization of agriculture as a metaphor for integrative approaches to medicine as the author looks for solutions for her most difficult cases. At times, Dr. Miller (A San Franciscan integrative medicine physician) stretches the conceit but I didn't mind because she took us on one of the best journeys through revisionist agriculture that I have read. Everything old is new again. Miller visited seven farms, beginning with author/farmer Wendell Berry's fabled homestead – where Berry helped her to construct the parameters for her search.
With a humble beginners' mind, Miller visited an Ozark ranch, a Washington state biodynamic farm, a pair of side-by-side organic chicken egg farms that used different approaches, a set of long-lived Bronx community gardens, a vineyard and an herb farm. Each eschewed, to some degree, the green revolution's factory farming inputs in favor of returning to the more environmentally sensitive approaches that predated the arrival of post-war pesticides and chemical fertilizers.  With each investigation, Miller related the lessons learned on that farm with potential solutions for a particularly challenging patient Sometimes, the comparisons didn't really work but other times they were viable and insightful. Two stand out:  a vineyard's pest-management approach paralleled innovative thoughts on treating cancer and the process of rejuvenating the soil suggested useful tactics for reassessing and reclaiming our own bodies.
Probably the most endearing chapter was the one about the two egg farms – both owned by a father and son team.  This was a bit of an experiment for them. One farm met all the requirements for organic eggs and the other went considerably further and actually delivered organic, truly pastured eggs.  They discovered that the pastured eggs were of considerably higher quality but the output was, surprisingly, somewhat lower.  The pastured farm also demonstrated the community nature of hens – how much they love a good gossip and hanging out with special friends (this chapter was related to stress-management). The other interesting note – for those who eat eggs – is that organic doesn't mean pastured – all you need is an open door someplace and a small cement pad for the thousands of chickens house in that multi-level, window-less barn. When you understand the flock nature of chickens, Tyson's approach becomes even more deplorable.
Farmacology is an easy read that delivers a wealth of thought-provoking information.